About Lindau, Bregenz, and Lake Constance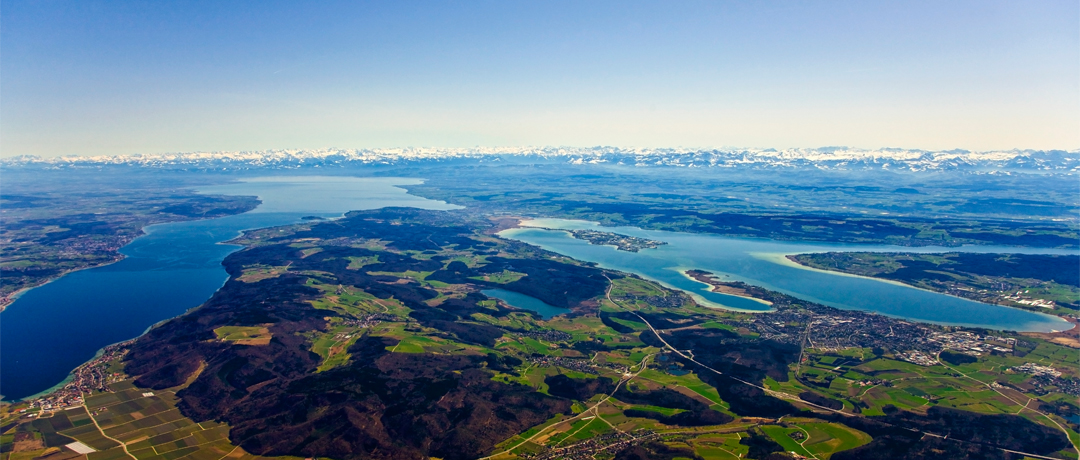 Lake Constance with Austrian and Swiss Alps – Image: Internationale Bodensee Tourismus / Achim Mende
Catherine loves Lake Constance! And when you come and experience this region, you will know why. Lake Constance is one of the most beautiful areas in central Europe. The lake, being the third largest of central Europe, covers an area of 536 square kilometers (about 207 square miles) and connects the countries of Germany, Austria, and Switzerland. (Some also count the Principality of Liechtenstein among the states connected with Lake Constance.)
Lake Constance is also an important drinking water source for some 4.5 million people in Germany and Switzerland. The lake's waters are primarily fed by the Alpine Rhine from Switzerland. The sheer size of this body of water and its great depth (250 meters) produce a microclimate all its own and milder temperatures. This often allows for Mediterranean trees and plants to thrive and has turned the whole region into a productive fruit and wine-growing landscape. Nevertheless, the area can also experience powerful storms and winds that race across the water.

Apple Orchards in Wasserburg (Bodensee) – Image: own
The lake is popular for sailing, surfing, swimming, and cycling along its shores. An annual sailing regatta around the lake called the Rund Um ("all around") takes place every summer, and a magnificent ship procession with prayer and water consecration occurs each year on the day of the Assumption of Mary, August 15.

Rundum Sailing Regatta – Image: Julius Osner / www.foto-osner.com
Important social and historical places and events at Lake Constance include the Council of Constance (1414-1418) that was held to end the Papal Schism. Also of significance is the city of Friedrichshafen, an important trade and industrial city. Friedrichshafen has been at the forefront of naval and aviation innovation since 1824, when the first steamboat was built to travel Lake Constance. In 1900, the first Zeppelin airship started from the lake. Many aviation, weaponry, and space technology companies are still linked to Friedrichshafen, such as Dornier (former Zeppelin Werke and today part of Airbus Defence and Space), ZF Friedrichshafen (the world's second largest car parts manufacturer), and MTU and Rolls-Royce Power Systems (producing high-speed engines and propulsion systems for ships and land, rail, and defense vehicles). Altogether, there are about 20 arms manufacturers and security engineering companies along Lake Constance.
Zeppelin Airships – Image: Internationale Bodensee Tourismus / Achim Mende
Lindau is a town and historic island on the eastern end of Lake Constance, with historical documentation dating back as early as 882. Some of its buildings (such as Saint Peter's Church) go back 1000 years. It is a popular tourist destination due to its historic buildings, harbor, and beautiful panorama and location on the lake.

Lindau im Bodensee – Image: Wikipedia
Every year since 1951, Lindau has hosted the Lindau Nobel Laureate Meetings; the meetings bring some 30-40 Nobel science laureates to the town—representing the largest convention of Nobel laureates in the world. These annual meetings host a full series of lectures, master classes, and panel discussions that alternate between a focus on the three natural sciences of physiology and medicine, physics, and chemistry. During this time, hundreds of young scientists, PhD students, and postgraduates from over 80 countries flood the town to engage in lively scientific discussion.
Each year, the science laureates visit the Island of Mainau on the last day of the meetings—just as our group of Solari subscribers will do during the Hang.

Mainau Flower Island – Image: Internationale Bodensee Tourismus / Helmut Scham
Bregenz is the capital of the western Austrian province of Vorarlberg, situated along the Austrian shores of Lake Constance. Early settlements date back to 1500 BC. Perhaps due to its vicinity to Switzerland and Germany—and the opening to the world that the enormous lake provides—Bregenz has developed an unusual wealth of artistic and cultural events that draw thousands of visitors each year.

Image: Bregenzer Festspiele
The most famous and renowned event is the "Bregenzer Festspiele" or Bregenz Festival, which features the world's largest floating stage—an open-air amphitheater with 7000 seats that are all booked each night during the Festival. The Festival's opera program changes every second year, with performances of Verdi's Rigoletto during the 2019-2020 season.
Take a look at the technology behind the "Rigoletto" stage set:
(Click on the image.)